Lombok Island lies between the islands of Sumbawa and Bali in the vast Indonesian archipelago. It is easy to get to Lombok thanks to the new international airport as well as faster air and sea connections from Bali. With a population of about 3 million, Lombok blends the local culture with Islamic and Hindu traditions. Lombok offers a less developed, quieter vacation alternative to the brasher Bali. Here are some must see attractions in Lombok, Indonesia.
Pura Meru
Maratam is the capital of Lombok and home to the largest Hindu temple on the island – Pura Meru. Bathe in the scent of Jasmine at the nearby Majura Water Palace or spend some quiet time amid the rise of mangosteen trees. Pura Meru is a floating pavilion and royal court that was built by the Balinese, Lombok's former rulers.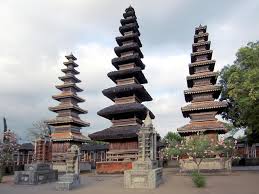 Senggigi Beach
Senggigi Beach is along the scenic west coast and north from Maratam. It is a laid back resort town that is the perfect base to explore the rest of this island.
Bath Bolong Temple
Pay your respects at this Hindu temple before enjoying a dip at the beach with the locals. As the sun drops into the sea at sunset, everything stops at Senggigi.
Pusuk Park Pass
Pusuk Park Pass is a mountainous reserve filled with monkeys. Tanjung town is a few miles from here. The market will get you a real window into the lives of the locals.
Gili Islands
Gili Island is one of the biggest attractions in Lombok. There are 3 islands here and they are accessible from Bali by a fast boat. Be prepared to step back in time once you jump the shore. The only way to get around here is pony cart, bicycle, and on foot. Head to Gili Meno and Gili Air to experience most basics of simple living. These islands offer seclusion, simplicity, and miles of sand. The largest of the islands is Gili Trawangan and a 30 minutes boat ride from Lombok will get you here.
Gili Islands offers a wide variety of restaurants, accommodation, and activities. Do some shopping, pull on a dive mask, or get to know the locals. Regardless of the Gili Islands you choose to go to, your body clock is guaranteed to reboot to island time while also putting you back in touch with nature's rhythms.
Lombok is Bali's little sister and a quick reminder it is sometimes not the best to grow too soon or too fast.